---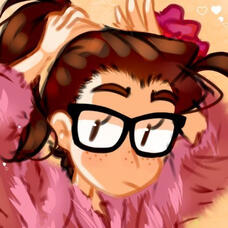 ・Soniana's Commissions・
(Comms page under construction)
[ENG] Hi! I'm Sonia. Argentinian digital artist slowly trying to get into the freelance world. I take commissions once in a while to help pay college stuff :)[ESP] Hola, soy Sonia, artista digital argentina y estudiante de diseño gráfico. Aveces hago comisiones para ayudar a pagar cosas de mi universidad :)
---
---
・Terms of Service・
By ordering a commission, you accept and agree to the terms of service listed below. Remember to read them carefully!
Payment / Pago
Internacional through paypal in $USD.

Full payment upfront for anything below 20$USD. From there on it's 50% before starting the commission and 50% once it's finished.

No refunds once I start the commission, unless for x reason I decide otherwise.

Tips are welcome <3
General
Must be 16+ to commission me (themes like nudity and anything suggestive are out of the question for anyone below 18).

I reserve the right to refuse a commission.

Commercial use can be discussed.

Unless requested otherwise, I reserve the right to post, share and promote myself with the created artwork. You may post it anywhere you want with proper credit given. Do NOT claim my work as your own.

A small signature will be included in the art piece sent to you. Posted version will have a watermark.

Turnaround time varies from days to weeks depending on the complexity of the drawing. I'm currently in college as I do commissions on the side, so be warned TAT might change at any time (you'll be notified if this happens).

Customer-set deadlines can be worked with on selective cases, but a rush fee may apply.

Make sure to respect the revisions stages listed in the 'process' section. Changes outside those rules can be discussed for an extra fee.

References are a must. From how the character looks to any new clothes you want to add, background, etc. Even in custom design/written descriptions I'll ask for images to know what kind of thing you're looking for.

Will send several WIPS through the whole process. You'll get to see sketch, lineart, and colors. If you ever want an update feel free to ask!
Process / Proceso
Remember communication goes both ways. I'll do my best to answer your messages and keep you updated, but you as well have to be mindful of your part in this. You're free to take your time to answer of course, life is busy, just have in consideration that if I send an sketch for revisions and I'm left on read for an entire day, that's a day I couldn't make any advancements. Let's work together so the process can go as smoothly as posible ^^
Fill out the template at the bottom of this page and send it either via DM or mail(if you choose the latter, title the mail as ArtCommission_(username).

Once I see the message I'll write back to you. Due to time zones I might take a while, but assume that if there's no answer after 24 hours there was a mistake and you are free to contact me in any of my other social medias.

We'll discuss both the final price and anything extra from the commission that might have escaped the template. Once everything is settled I'll send an invoice through paypal (either full or first half of price depending of the commission). I'll only start working on the drawing once some form of payment is received.

IF you haven't quite decided some aspects of the commission(ex. exact poses of the characters), then I'll do what I call 'scribbles', quick lines and shapes that only take me a few minutes to make. They'll look bland and nothing like the final sketch, as they are just to define the pose and general look of the drawing. I'll show them to you make you choose between a few options, so you can tell me if I'm conveying the idea you had in your mind correctly. There's a limit of 3 big changes like poses or angles in this part. Once one of the scribbles is approved, I'll pass to the sketch phase.

Once I have the sketch finished I'll contact you again for revisions. Here the changes allowed are smaller, like making a character shorter, changing their hair lenght or part of their clothes, etc. There's also a limit of 3 revisions here.

With the sketch done I'll pass to the lineart phase and then we'll do one final revision to check if the flat colors are okay.

When the shading is completed I'll send you a wip of the drawing and the final invoice. Once the payment is done, you'll receive the finished drawing in high resolution through mail.

And done!
---
Send this template via mail or dm to any of the links in my contact page
Username:
Read the terms of service and agree with them?
Contact info (social medias):
PayPal email:
Type of commission: (ex. Flat color chibi, full body / Icon full color, etc)
Number of characters:
Background: (ex. solid color, pink)
Comm description: (describe poses, where the character is, etc. Be as detailed as posible)
Reference images: (attach pics or links)
Character personality: (to help me create the pose and such)
Permission to post on social media?
Do you want to remain anonymous or under alias (state which one if so)?:
How did you find out about my commissions? (optional, but helps me to know the best way to advertise my commissions ^^)
Additional comments: (optional)